Hale Komo Mai - Guest House

About Kihei
Have you ever been to a special place for the first time and felt like home? - Welcome to Kihei!
The ocean here literally sparkles with sailboats, windsurfers and other water activities, and the entire coast is an excellent place to watch whales in the winter. Kihei is the main destination in South Maui. Over the past few years it has gone from a reasonably quiet and sleepy town to a bustling tourist community. Kihei lacks the history and prestige of Lahaina, but in many respects the two towns are very similar. Both are long and narrow, hugging the shore in a semi-arid environment. It is sunny most of the year with rainfall averaging less than 20 inches a year.
More than one third of the hotels and resorts of Maui are located in Kihei on the South side of the island.
There are abundant facilities with excellent shopping, parking, restaurants and activities available nearby. Kihei also has wonderful tennis facilities and an excellent golf course. Beyond Kihei, past Makena the road dead ends at a vast old black lava flow. You can explore one of the more remote areas of Maui (the La Perouse Bay area) on foot from here till the end of the road on the South side.
Makena also boasts one of the last large undeveloped beaches on Maui, Makena Beach (Big Beach-picture) and one of the most picturesque beaches on Maui, Little Beach (which is also an unofficial nudism beach). There is wonderful diving, kayaking and snorkeling off any beach; most of these shores are very clean and peaceful.
All in all, Kihei can be as glitzy or as laid back as you want. You name it.
Our Location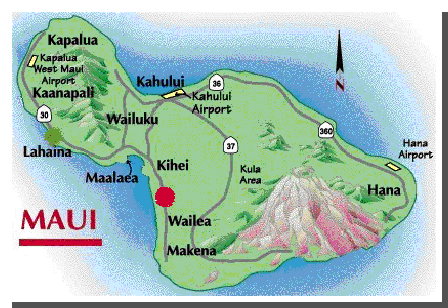 A short walk
A short drive
A longer drive
Kalama Beach Park
Kamaole Beach Parks
Public Pool
Tennis Court / Sport Parks
Library
Market Place
Safeway, Foodland, Starmarket
Restaurants, Nigth Clubs, Coffee Stores, Shops
Wailea - Hotels, Restaurants, Shops
Big Beach, little Beach
Kihei Windsurf Beaches
Maalaea Harbor (for all kind of ocean activity)
Maui Ocean Center
Minigolf and Waterpark
Golf
Lahaina - 30min
Kahului - 20min
Haleakala - 60min
Hana 2 - 4 hours
Kahului Airport - 25min
Hookipa Surfbeach - 30min
Kanaha Surfbeach - 25min